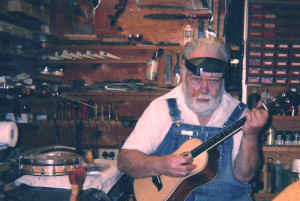 In addition to my love of playing the banjo, I also have an extensive collection from some of the finest luthiers in the world.  While many instruments have the potential to be artistic expressions in addition to playable instruments, I find the banjo has so much more potential to be a work of art in many senses of the word. 
Most of the banjos in my collection were hand-built by master luthier Dale Small.  In 2008, Dale was inducted in the American Banjo Museum Hall of Fame for Design and Manufacture.  Each banjo I have of his is based on a specific theme (the Egyptian, the Greek, the Italian).  Art work was done by Ron Raymer who also did the metal engraving, wood carving and painting.
I'd love to hear what you think of them, or if you have some nice specimens of your own, I'd love to see them.  Feel free to send me a message and let me know what you think.
The Egyptian
Civil War – The North
Civil War – The South
The Americana
The Surprise #1
The Indian
The Italian
The Surprise #2
Gardenias and Roses
The Roman
The Roman (sister banjo built as a ukulele)
Bacon and Day #9 Ukulele
The Viking
The Jazz Banjo
The Greek
This banjo was built by Norbert Pietsch of Bremen, Germany.